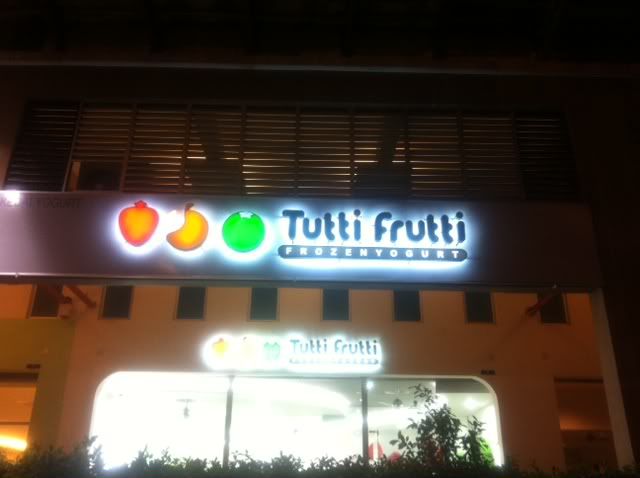 Tutti Fruitti date with my girls.
the girls that I couldn't live without, during my industrial training period. =D
Thursday 8.30pm, Tutti Fruitti, Jalan Ixora.
None of us tried on Tutti Fruitti before, and we were like kinda stuck when we entered the shop.
ROFL.
We didn't know that we have to choose the size of the cup,
and we didn't know that everything in Tutti is kind of like self-service based.
we decided to share on the ice-cream. so we chose two green cups for three of us.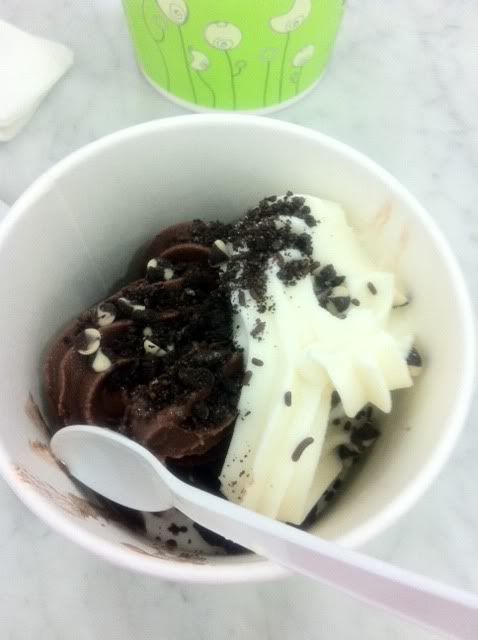 Chocolate & Vanilla flv, with all the chocolate chips toppings.
The vanilla yogurt ice cream is so heavenly nice!!!
omg.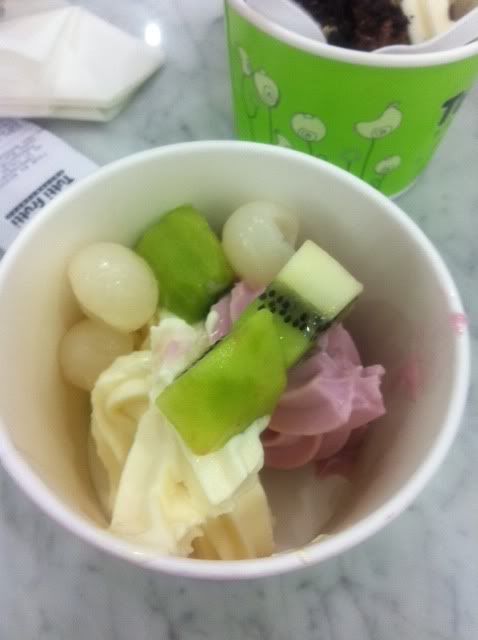 Blueberry & Mango. I love the Kiwi Fruit! :D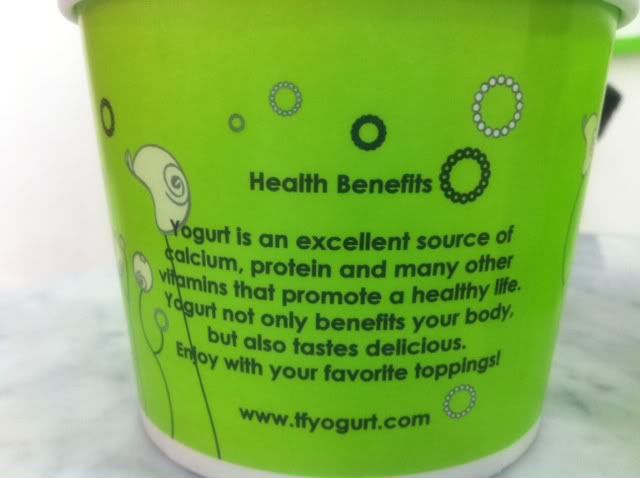 So, it's good for us to take yogurt huh!

On my right : Penny, Chialin, Sharon

Chialin & I were having our internship together in Oriental,
Penny worked in Oriental before, and Sharon is still currently working in Oriental.
Penny dated Sharon when we already in Tutti, and Sharon came right after that.
SO STEADY!
so basically, the topics of our girls talk are still mainly about Oriental.
most of the time, I was just listening, And eating. LOL!
Im that kind of people who don't think about anything in the office after work. :PP
But being with them make me feel safe, I don't know why,lol!
They are older than me and they think much further than me.
I just couldn't think so much like them and
they will tell me to watch out whenever they see/feel something.
ESPECIALLY CHIALIN!
sometimes some people are trying to find out something through the talking with you.
They describe me as the kind of people who don't realise people get close to you is up for something.
okay, noted.
will try to watch out now! :P
The memory in Oriental came back to my mind, in that one hour plus gathering.
hahah.
I remembered the face of my supervisor, and how she treated us.
I remembered the workers in there, and the office politics.
I see that as a beautiful memory for my life.
Industrial training is sort of like once in a lifetime.
So, those who are going to have their internship, my advice is :
Enjoy every seconds of it.
Really.
you may just like me, hate everyday waking up early, doing all the works like a bull or something.
but at the end of the day, that is what a true working experience is.
you may complaint about your work or your supervisor or your colleagues.
but it is just a transition period.
when you already use to the environment, everything will be just fine.
and be thankful to those who helped you and those you are comfortable to talk to/be with.
cause you are so gonna miss them next time!
Anyway, Girls,
Next stop will be the Reunion Dinner! XD