Location : Overtime, Hatten Square, Malacca Town.
Date : 25/10/2011
Overtime!
It's now in Malacca too! :)
As for me, club/bar/lounge is not a frequently-visit place for me.
The 1st bar that I went before was during my eighteen, maybe?
The pillow bar! celebrated my eighteen birthday with my foundation gangies that time. :DD
Pillow bar was just somewhere like a cafe, where we can actually
talk.
soft music and some alcoholic drinks. :)
Im not sure how many percent of alcohol in the drinks, but they are enough/more than enough to make me drunk.
shame on me? :(
gah!
boyfriend wasn't really happy when he knew I was going to take some alcoholic drinks.
cause he knows me. hahah.
So, obviously, I don't drink simply because I can't drink. XD
but still, I love hanging out at a new place with my old friends!
Overtime is new for most of us, except the guys, cause they already went there once. LOL!
we were there for Shuting's 21st birthday! =)))
Time flies heh?
I can still remember very clearly that Last year, we celebrated her birthday at the Portugis Settlement.
And the puzzle! that present that we bought for her last year.
Sobs. that is one year ago already.
We grow up & we grow old.
eww.
There were afew fellas in Overtime celebrating their birthday too.
such a coincident. lalala.
This is the birthday cake for her. It's from the Secret Recipe!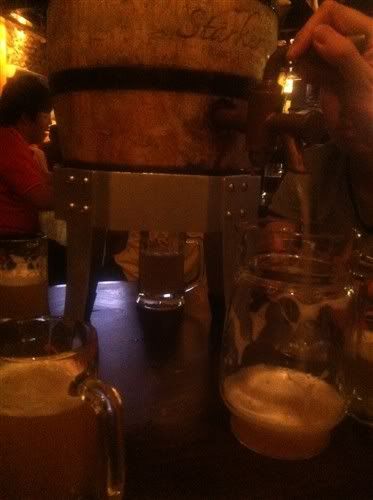 ohyeah~ ADULTS! XD
This is the beer that
we
/ the boys ordered that night.
the cost is around RM350?
I ain't a good drinker. but this beer is acceptable for me.
it's taste is softer than the normal alcoholic drinks.
and the starker beer don't come with that opening pipe. lol.
the waiter have to hammer that pipe into the barrel.
cool for me. =)
told cha I can't drink. See that big glass we have in that picture?
I can only drink 1/3 of that glass.
and my heart started to pump so quickly and my face turned red.
and the guys told me, my neck was kinda red too.
FML
:'(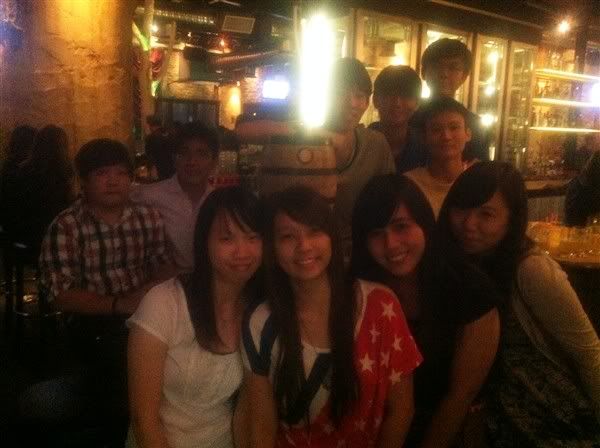 Okay I must say we don't really take a group picture when we go out together.
I don't know why.
but hey, that's my foundation gangies!
From behind : Dom, Alvin, Kay, Weekiat, Bernard, Eric,
Shuting, Ziyan, Sinhwee and Me!
* And of course, Andrew too!*

They are my friends, for like almost four years already?
love em' all. :)
We're taking different courses in MMU or in MMU Cyber,
some are not even the MMU-ians anymore.
Im so thankful that we still manage to hang out together, as a foundation gang, whenever it's possible. :)


Happy Overtime with my foundation gangies!
heee!