Friday was a lovely day for me. cause my boyfriend came over from Cyberjaya just-for-me! :P
My working hour ended at 5.15pm, and I rushed back to Ixora at 5.15pm
sharp.
nah,you know, just-for-you.
XD
I've always been late for our date. He's the one who always been waiting for me.
He didn't really grumble for that, but honey, you-are-waiting-someone-worth-waiting-for! :PP
JOKING!
So, I promised him I'll be showing up early and pick him up at the Central on Friday.
AND I ACTUALLY DID!
I didn't break our promise! =D
Had a Ikan Bakar dinner with him that night.
♥
simply delicious.
He knew that I've been craving for the Harry Potter. So we went for that movie at night.
Voldermort died. and Harry Potter is still alive. Expected ending but still exciting. :)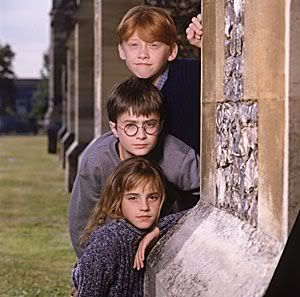 So, Goodbye Ron, Harry, and Hermione :))
im so gonna miss you guys!
And this!
the great starting point of all the great story!
HOW I WISH I'M ONE OF THOSE KIDS WHO GO TO HOGWARTS TOO!
AND I WANT TO BE IN THE GRIFFINDOR! :D
Day 2.
Asam Pedas dinner as I wished! =)
We went to the Kota Laksamana. The Asam Fish tasted so-so. :(
now I know why people always say that the food in Muar is yummey!
Watched the Captain America around 10pm.
Boyfriend said He purposely skipped this movie from watching together with his friends.
He said he wanted to watch with me.
how sweet! :P
you know he always says something
tiny
, but
big
enough to make my day. :)
♥


I seriously don't have any idea on this movie.
and he's bad enough to push my head down when I tried to watch the trailer while we buying the drinks.
but yeah, it was nice. the story is nice and the guys in there are hawtttt! :P

Oh btw, I saw ELVIN NG in DP! xoxoxoxoxoxo!
thanks for the likes on that photo that i posted in FB.
I got around 40 likes on that photo! LOL!!!
And yeah, Thanks for coming for me again,Ky
♥


I love you!