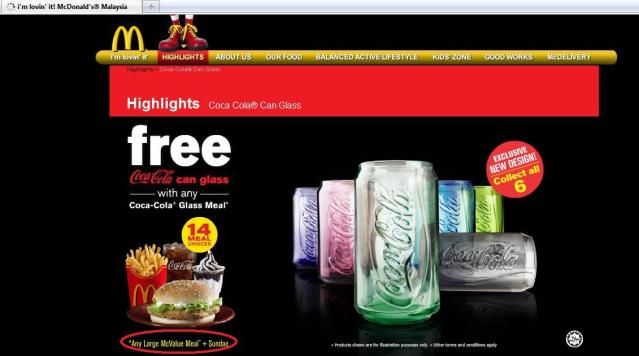 Coca-cola glass is back!
McD is giving away the glass when you purchase any
LARGE
McValue meal and the Sundae Icecream.
Take note, it's L-A-R-G-E.
and today,5th of May, is the starting day for the glass in
Purple
!
If I were to choose,
I prefer the one in
PINK
!
Wooops, enough for this.
I am not promoting for McD, and you must be thinking that I'm way too free to blog about this.
nah!
there is finally ONE day that I do not have to think about my FYP(final year project).
for the past seven weeks, FYP is in my head, almost Everyday.
even when I try not to think about it, my mind just can't stop reminding me that there is something very important for me to complete.
but today,yes today, I submitted my FYP baby.
one copy to the FBL and one to my FYP supervisor. :)
there is actually nothing for me to brag about since tomorrow will be the last day for submission.
but you know, I manage to submit my own work on time, without any delays. :)
that is a bravo for mey! :))
Working for this FYP till midnight continuously.
I slept at 5am this morning. =_=''''
It's crazy,yea,I know!



So, a big meal to pamper myself.

WHY NOT? :)